ABOUT NK
BUSINESS
R&D
COMMUNITY
---
Environment - Ballast Water Treatment System
NK's BWTS can be optimally installed anywhere in a ship.
NK-O3 BlueBallast(M-Type)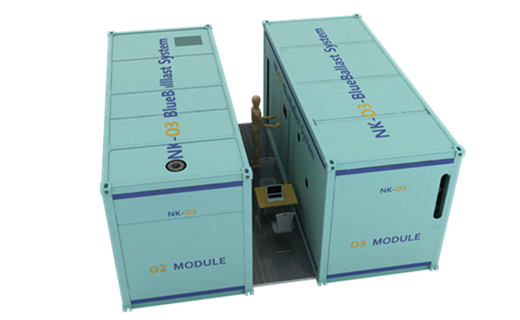 NK BMS, which considers the convenience of customers as a top priority, introduces innovative NK-O3 BlueBallast System. The optimized design of the NK-O3 BlueBallast System is provided as a small module with all the necessary wiring, piping and cables except for the ozone line to provide minimal on-board installation process and space requirements. FAT is implemented thoroughly and systematically under the same conditions as the actual operating environment, so that it can be completed in the shortest time from installation to commissioning with minimum trial and error. It can be easily stored and transported in modular form without special packing.

Product Specifications
| | | | | | | | | | | | |
| --- | --- | --- | --- | --- | --- | --- | --- | --- | --- | --- | --- |
| Model Number | NK-03 | 015 | 30 | 50 | 75 | 100 | 150 | 200 | 250 | 300 | 400 |
| Ballast Pump Capacity | m2/h | 150 | 300 | 500 | 750 | 1000 | 1500 | 2000 | 2500 | 3000 | 4000 |
| Total Ballast Capacity | m2/h | 300 | 600 | 1000 | 1500 | 2000 | 3000 | 4000 | 5000 | 6000 | 8000 |
| Total Footprint | m2 | 14.5 | 14.5 | 14.5 | 23.0 | 23.0 | 29.4 | 29.4 | 29.4 | 29.4 | 49.5 |
| Total Weight | kg | 6,567 | 7,416 | 8,299 | 11,918 | 13,663 | 17,812 | 20,067 | 23,710 | 24,687 | 27,943 |
| Total Power Comsumption | kW | 35.5 | 61.7 | 98.1 | 135.5 | 199.3 | 263.3 | 360.4 | 423.0 | 488.9 | 709.9 |
| Total Cooling Water | m2/h | 7.2 | 11.6 | 15.1 | 20.1 | 29.4 | 36.6 | 50.3 | 56.1 | 64.9 | 74.4 |
---