ABOUT NK
BUSINESS
R&D
COMMUNITY
---
Environment - Shipbuilding
Sailing all across the oceans, NK rises as a leader in the new technology developments for the shipbuilding and marine plant industry.

NOVEC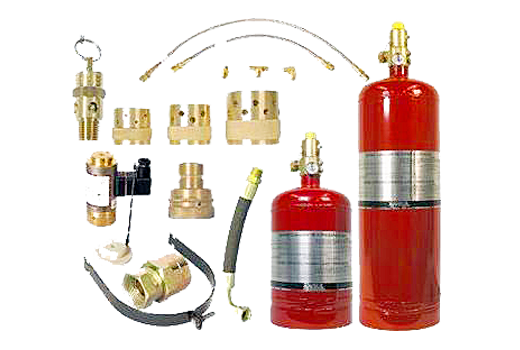 Each assembly may be provided with a range of fills to suit the design requirements.
After filling, the containers are superpressursed with dry nitrogen to 25 bar +5%(at a temperature of 20℃)
The maximum filling density for Novec 1230 is 1.2kg/litre and the minumum is 0.5kg/litre.
Dimensions and weights of each assembly are shown in Tables 15 and 16.

Features

Containers are painted red as standard.
Containers are fitted with a label, (order separately), which provides handling, maintenance and rechage instructions.
All containers are designed for vertical mounting only.

Specification
| | | | | | | | |
| --- | --- | --- | --- | --- | --- | --- | --- |
| Part Number | Container Size(Litres) | Diameter(mm) | Nominal Height to Valve Outlet Dim 'A'(mm) | Tear Weight(kg) | Min Novec 1230 Weight(kg) | Max Novec 1230 Weight(kg) | Max Gross Weight(kg) |
| 303.207.015 | 8 | 254 | 300 | 17.4 | 4 | 9.6 | 24.4 |
| 303.207.016 | 16 | 254 | 499 | 23.4 | 8 | 19.2 | 37.6 |
| 303.207.017 | 32 | 254 | 831 | 27.5 | 16 | 38.4 | 64.5 |
| 303.207.012 | 52 | 406 | 593 | 68.7 | 26 | 62.4 | 111.5 |
| 303.207.013 | 106 | 406 | 1018 | 88.8 | 53 | 127.2 | 199.0 |
| 303.207.014 | 147 | 406 | 1352 | 108.8 | 73.5 | 176.5 | 266.4 |
| 303.207.018 | 180 | 406 | 1631 | 120.9 | 90 | 208 | 313.8 |
| 303.207.010 | 4.5 | 178 | 280 | 7.7 | 2.3 | 5.4 | 13.4 |
| 303.207.001 | 8 | 254 | 300 | 14.8 | 4 | 9.6 | 24.4 |
| 303.207.002 | 16 | 254 | 499 | 18.4 | 8 | 19.2 | 37.6 |
| 303.207.003 | 32 | 254 | 831 | 26.1 | 16 | 38.4 | 64.5 |
| 303.207.004 | 52 | 406 | 593 | 49.1 | 26 | 62.4 | 111.5 |
| 303.207.005 | 106 | 406 | 1018 | 71.8 | 53 | 127.2 | 199.0 |
| 303.207.006 | 147 | 406 | 1352 | 89.9 | 73.5 | 176.5 | 266.4 |
| 303.207.007 | 180 | 406 | 1631 | 105.8 | 90 | 208 | 313.8 |
| 303.207.008 | 343 | 610 | 1466 | 207 | 171.5 | 386 | 593 |
---